Storage & Accessories
Electrical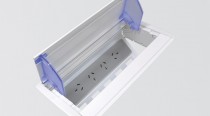 Axxess
All in one In-Desk power and data management solution. The Axxess series (In desk box) is a great design, which is cost efficient, visually attractive and surface mounted, making it simple and easy to install.

The Axxess provides power & data solutions to your desktop, work station or boardroom table.

The lid sits flush when in use and the cables exit via the spring release lip. The unique locking arm system ensures that it is securely fitted to the table/desk top by operating screws at each end. Once fixed, the locking screws are covered with a screw cover.
Customise and order